9 Tours Found
We found 9 tours in the Kuranda Train & Skyrail category
Paradise Rainforest Walk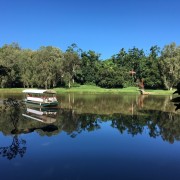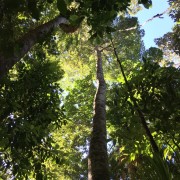 Paradise Rainforest Walk
Guided Interpretive Rainforest Walk
Kuranda Riverboat crossing
Ancient Tropical Rainforest
Brett's Kuranda Tours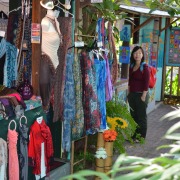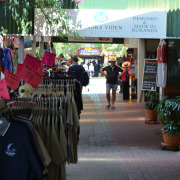 Brett's Kuranda Tours
SMALL BUS TOUR FROM PORT DOUGLAS
Visit Kuranda Village ex Port Douglas
Small Personalised Groups
Kuranda Train and Skyrail
Most people who visit Kuranda choose to combine both the famous Scenic Rail and Skyrail Cableway into a relaxing scenic day trip.
Booking a pre organised tour packages offers a variety of benefits such as
Express check in at Skyrail
Pre-allocated reserved seating carriage and seats numbers on the Kuranda Scenic Rail.
A tour itinerary, timings and also handy hints on how to make your day as enjoyable as possible.
Discounts into iconic Kuranda attractions such as Birdworld, Australian Butterfly Sanctuary and Koala Gardens.
A detailed scaled map with a key to highlight points of interest such as free shuttle bus departure locations, cafes, attractions and ATM machines.
Tailor-make your Kuranda experience. Whether you want to see everything that Kuranda has to offer, or are short of time and want to experience the regions most memorable experiences in a day, we have it covered!
Add key attractions to your day such as:
Kuranda Wildlife Experience
Kuranda Wildlife Experience includes entry to the Kuranda Koala Gardens, Birdworld and the Australian Butterfly Sanctuary. You will have access to all three attractions at a great saving off the normal admission price!

Alternatively, you can book entry only to each attraction:
Birdworld
Home to the largest single collection of free flying birds in Australia (some 500 of them!), Birdworld Kuranda displays no less than 60 species of the most spectacular birds from all corners of the planet - as well as from the earth's fast diminishing rainforests. Visitors are free to wander through the lush, tropically landscaped aviary to observe the birds in their own specific - yet natural - habitats.
Butterfly Sanctuary
Australian Butterfly Sanctuary is the largest butterfly flight aviary and exhibit in Australia - an all-weather experience in the heart of Kuranda. Home to over 1,500 magnificent tropical butterflies, you will be enchanted by the aerial dynamics of these elusive wonders of nature as you wander through the aviary's rainforest gardens.
Koala Gardens
Kuranda Koala Gardens is a beautiful boutique wildlife park in the middle of the Heritage Markets. A tranquil oasis where visitors can cuddle a koala, sit down beside wallabies and get very close to some iconic Aussie animals.
Rainforestation
Rainforestation is situated 5 minutes outside of Kuranda. Set on 100 acres of World Heritage Rainforest, this eco-friendly attraction has three unique experiences: Army Duck Tours through the rainforest on both land and water; the Pamagirri Aboriginal Experience with a traditional dance performance and guided Dreamtime Walk with boomerang throwing, spear-throwing and didgeridoo playing; and a Koala & Wildlife Park, where you can see native Australian animals, including crocodiles, wombats, dingoes, and the cassowary, as well as handfeed kangaroos and have your photo taken cuddling a cute koala.
Hot Air Ballooning
Enjoy a serene mornings balloon flight over the Atherton Tabelands at Mareeba with an experienced and fun team at Hot Air, and witness spectacular views of the Atherton Tablelands, Mareeba and the Great Dividing Range. From your balloon see kangaroos, local birdlife and farming land, and enjoy an expert commentary from your world class pilot.
Hartleys Crocodile Adventures
Hartley's Crocodile Adventures - the best place in Australia to see crocodiles up close in a safe & natural environment. Cruise our lagoon and enjoy jumping crocs plus watch our exciting and informative shows, including the famous Croc Attack show!
Green Island
Combine a trip to Green Island and Skyrail – a rainforest gondola journey – all in one day. Green Island is a beautiful coral cay on Australia's Great Barrier Reef with unique island rainforests, surrounded by white sandy beaches & magnificent coral reefs and abundant marine life. A half day reef cruises allow 2 hrs on Green Island, departs 9am, back in Cairns 12.45pm.
Tjapukai Aboriginal Cultural Park
Tjapukai offers a showcase of indigenous culture. Your Indigenous guide who will show you through the Park, where you will have the opportunity to engage in interactive activities and learn the traditional customs of the Tjapukai people. Activities include bush food demonstrations, didgeridoo demonstrations, movie theatres, fire making demonstrations and the famous Tjapukai Dance Troupe.