Gold Class Train + Skyrail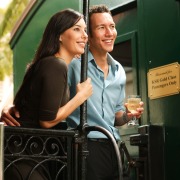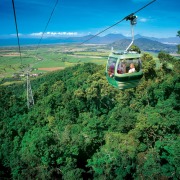 Gold Class Train + Skyrail
Train with Gold Class & Skyrail
Kuranda Scenic Railway Gold Class
Skyrail Cableway
FROM enquire PER PERSON
---
Inc. all levies & taxes

Gold Class Train + Skyrail Info
Kuranda Scenic Railway with Gold Class & Skyrail:
This package combines Skyrail Rainforest Cableway with the famous Kuranda Scenic Railway with Gold Class providing a premium experience for passengers wanting that extra comfort and a little bit of luxury for a most memorable experience.
The original Kuranda Scenic Railway is a spectacular journey comprising unsurpassed views of dense rainforest, steep ravines and picturesque waterfalls.
---
Departures:
Your Train experience will commence or conclude at either the Cairns/Freshwater Station or Kuranda Station, depending on your direction of travel:
9.50am departure from Freshwater Station to Kuranda
3.30pm departure from Kuranda to Cairns
Allow approximately 2 hours for the journey
Gold Class Inclusions:
Dedicated personalised Gold Class attendant
Individual seating, lounge-style chairs (24 seats in each carriage over 4 carriages)
Ambient, historical décor, including timber look flooring, historical photographs and cedar interior
Gift pack including Kuranda Scenic Railway badge, pen, postcard
Souvenir trip guide available in 9 languages
Optional exclusive tour of the Heritage-Listed Signal Cabin at Kuranda station
Food & beverage offerings will focus on Queensland and local Tablelands produce such as:
o Gallo Dairyland Cheese
o Skybury Coffee & Daintree Tea
o Wondaree Macadamias
o Mango to Go (100% pure mango "ice-cream" style treat)
o Freshly baked muffins with local fruit
o Sirromet Wines & Great Northern Brewing Company Super Crisp Lager
Welcome drinks served 20 minutes prior to departure:
- Morning service: tropical mocktails served in the pavilion area
- Afternoon service: served onboard the train

---
Sample Itinerary:
Train Gold Class Up, Skyrail Down
Pickup from accommodation (except for self drive)
Kuranda Scenic Rail from Freshwater Station at at 9.50am
Free time in Kuranda
Skyrail departs Kuranda
Barron Falls & Red Peak Boardwalks
Transfer to hotel or back to your car for self drive
Skyrail Up, Train Gold Class Down
Pickup from accommodation (except for self drive)

Skyrail from Skyrail Smithfield Terminal to Kuranda

Red Peak & Barron Falls Boardwalks

Free time in Kuranda

Kuranda Scenic Rail at 3:30pm

Transfer to hotel or back to your car for self drive
*Please advise your preferred times of travel on your booking request
---
Skyrail:
Travel in a 6 person gondola cabin with panoramic views as you glide above the rainforest canopy on the amazing 7.5km journey.
Gondolas leave the station continuously; bookings are taken in 15 minute intervals
One-way Skyrail Experience will take approximately 90 minutes to complete
Skyrail operates daily from 9am to 5.15pm with the last departure scheduled for 3.30pm (closed Christmas Day)
Skyrail's Canopy Cafe and retail shop located at the Smithfield Terminal is open from 8.00am.
You'll glide just metres above the rainforest canopy before descending through the canopy layers and deep into the heart of the forest at Skyrail's two rainforest mid-stations (Red Peak & Barron Falls) for the ultimate tropical rainforest experience.
Plan to spend 20-30 minutes at the two Rainforest mid-stations:
Barron Falls: Enjoy spectacular views of the Barron Gorge, state-of-the-art Rainforest Interpretation Centre, lookouts and historical displays.

Red Peak: Lush rainforest surroundings including the towering 400 year-old Kauri Pine. Interpretive boardwalk tour with Skyrail Ranger available throughout the day.
Your Skyrail experience will commence or conclude at either the Smithfield or Kuranda, depending on your direction of travel:
Skyrail Smithfield Terminal is located just 15 minutes drive from Cairns and 50 minutes from Port Douglas. Self-drive passengers will find Skyrail's location easily accessible with free car parking.
Skyrail Kuranda Terminal is located a short walk from the famous village of Kuranda.
---
Kuranda Village:
This 'Village in the Rainforest' has numerous attractions including a butterfly sanctuary, a colourful bird aviary, koala park, walking tracks and a diverse range of markets (open every day from 9am to 3pm), shops, cafes and restaurants (extra costs).
We recommend allowing yourself two to three hours in Kuranda.


---
Language Options:

Queensland Rail have developed a unique and interactive app to give customers the opportunity to listen to commentary while they sit back, relax and take in the many historical sites on-board the Kuranda Scenic Railway. The apps are available in English, Japanese, Simplified Chinese/Mandarin & German for Apple from the iTunes app store and from Google Plus for Android users. Please ensure you download the app prior to visiting Kuranda Scenic Railway's Stations. If you don't have a headset they are available for purchase at the gift shops in Freshwater or Kuranda for $1.
---
How to Get There:

Self Drive:
If you have your own vehicle, you will not require transfers from your accommodation. This package automatically includes a one-way transfer from Kuranda Scenic Railway's Freshwater Connection Railway Station to Skyrail's Smithfield Terminal.

We recommend you enjoy Skyrail up in the morning and the Scenic Railway back in the afternoon. You will find that there is plenty of parking at Skyrail, no wait for transfers to Freshwater station, a cafe and also a short transfer turnaround back to Skyrail when you arrive on the train in the afternoon.
Coach Transfer: Skyrail runs a regular coach transfer service from most hotels in Cairns, the Northern Beaches (Trinity Beach & Palm Cove) and Port Douglas areas. If you require a coach transfer, please advise name of hotel in your booking request.

Guest Reviews
Loved the whole day
Posted By Colin Watts
A really enjoyable day
Train up..Skyrail down.. The only way to go. For older folks, use the shuttle buses to get around Kuranda.. A really enjoyable day..
Posted By John Cupper
Experience was amazing
Thought the whole experience was amazing!! Just outstanding.
Thankyou!
Posted By Karen Seifert
Best day in Kuranda
Gold Class was a lovely treat and worth the extra on the train. The Skyrail return was amazing, especially as we had such beautiful clear weather.
Posted By Donna Walmsley
Gold star rail up was fantastic
Gold star rail up was fantastic, unfortunately a thunderstorm stopped the Skyrail while we were on it, a bit scary. We were advised not to do the walks on the way down, but the shuttle driver was happy to take us an hour early.
Posted By Val Russell
Really enjoyed the Gold Class train
The lining up for tickets was a bit of a nightmare, not "simple and straight forward" as we had been advised by the bus driver. However all this aside, our day was great, we ran out of time in Kurunda and really enjoyed the Gold Class train on the way back to Freshwater station
Posted By Lorraine Cook
This was a good day for us overall.
This was a good day for us overall. I personally was a bit scared on the Skyrail, preferring the gold class train trip back more to my liking and the service was exceptionable. Kuranda is a lovely village and enjoyed browsing the markets. The Kuranda hotel was a great place to have lunch breaking up the entire day.
Posted By Karen Layfield
Loved the gold class train in the afternoon
Loved the gold class train in the afternoon - had a great trip back..stunning views on both skrail and train.
Posted By Lianne P
Gold Class Train + Skyrail Rates
Need Help With Your Booking?
Our Cairns Office is open again in 10 hours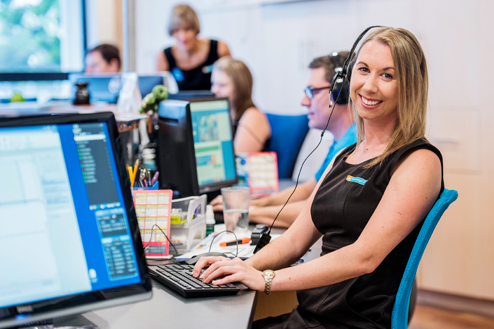 About Travstar Booking Requests
There are some things a computer can't do.
We love helping people plan their holidays and we want to make sure we get it right.
Some holiday packages can be quite complicated with multiple tours and accommodation, pick-up times and extras.
That's why every booking made through a Travstar Website is checked by our local consultants.
It takes a little bit longer to get your tickets but we want to make sure everything is going to run smoothly for you.
How long wil it take to get my tickets?
Our team are alerted to new booking requests as they come in. During office hours you can expect to have your tickets within an hour or two.
After office hours your tickets may take up to 12 hours to arrive.