Train & Skyrail - No transfers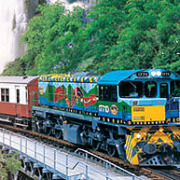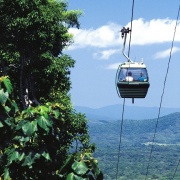 Train & Skyrail - No transfers
Train & Skyrail with no transfers required
Train only from Freshwater Connection
Skyrail Rainforest Cableway
FROM $107 PER PERSON
---
Inc. all levies & taxes


Train first from Freshwater Station
Show Rates FROM $107 per adult

Skyrail first from Smithfield Skyrail
Show Rates FROM $107 per adult
Train & Skyrail - No transfers Info
Kuranda Train & Skyrail
This package includes the Skyrail Rainforest Cableway experience with the famous Kuranda Scenic Railway journey only. This package is for guests who are staying with family in Cairns who will drop them at Freshwater Connection Station or Skyrail Rainforest Cableway at Smithfield, then pick them up from Skyrail, Freshwater Connection or Cairns Central Station depending on direction of travel.

For those choosing Train going up to Kuranda in the morning, the check-in location is Freshwater Connection Skyrail counter. This tour option does not depart from Cairns Central Station. Click here if you would like to confirm a 'No transfers required' tour with check-in at Cairns Central Station for the Kuranda Train

FAQ and detailed information:

Taxi vs. coach transfers? Occassionally guests book this tour and tell us they are going to take a taxi rather than pay for the hotel transfers. This is not a cost effective. Skyrail Rainforest Cableway is a 13km drive from Cairns City and takes around 20 minutes to drive. The estimated cost of a taxi to Skyrail from the City Lagoon is $45. The estimated cost of a taxi from Freshwater Connection to the City Lagoon is $38. The price difference between no transfers required and a return hotel transfers included package is $23.

Train first or Skyrail first? We recommend doing the train first from Freshwater Connection to Kuranda in the morning for the following reasons: Freshwater Connection has a little cafe where you can have breakfast or a coffee in a heritage railway carriage. It is located opposite a Pony Club and has a small museum. Freshwater Connection is a much prettier station to start your day than Cairns Central Station. In the afternoon Freshwater Connection is not as lively. The Kuranda Train is not air-conditioned and is cooler in the morning.

---
Sample Itinerary:
Train Up, Skyrail Down
Check-in at Freshwater Connection Station 40 minutes prior to departure
Kuranda Scenic Rail from Freshwater Station at 8.50am or 9.50am
Free time in Kuranda
Skyrail departs Kuranda
Barron Falls & Red Peak Boardwalks
Advise your friend to pick you up 1.5 hours after departing Kuranda on Skyrail
Skyrail Up, Train Down
Skyrail from Skyrail Smithfield Terminal to Kuranda

Red Peak & Barron Falls Boardwalks

Free time in Kuranda

Kuranda Scenic Rail departs Kuranda at 2pm or 3:30pm

Advise your friend to pick you up from Freshwater Connection 1.5 hours after departing Kuranda

Advise your friend to pick you up from Cairns Central Station 2 hours after departing Kuranda
*Please advise your preferred times of travel on your booking request.

Skyrail departure time slots in 15 minute blocks throughout the day.
---
Skyrail:
Travel in a 6 person gondola cabin with panoramic views as you glide above the rainforest canopy on the amazing 7.5km journey.
Gondolas leave the station continuously; bookings are taken in 15 minute intervals
One-way Skyrail Experience will take approximately 90 minutes to complete
Skyrail operates daily from 9am to 5.15pm with the last departure scheduled for 3.30pm (closed Christmas Day)
Skyrail Canopy Cafe and retail shop located at the Smithfield Terminal is open from 8.00am.
You'll glide just metres above the rainforest canopy before descending through the canopy layers and deep into the heart of the forest at Skyrail's two rainforest mid-stations (Red Peak & Barron Falls) for the ultimate tropical rainforest experience.
Plan to spend 20-30 minutes at the two Rainforest mid-stations:
Barron Falls: Enjoy spectacular views of the Barron Gorge, state-of-the-art Rainforest Interpretation Centre, lookouts and historical displays.

Red Peak: Lush rainforest surroundings including the towering 400 year-old Kauri Pine. Interpretive boardwalk tour with Skyrail Ranger available throughout the day.
Your Skyrail experience will commence or conclude at either the Smithfield or Kuranda, depending on your direction of travel:
Skyrail Smithfield Terminal is a 20 minute drive from Cairns and 50 minutes from Port Douglas.
Skyrail Kuranda Terminal is located a short walk from the famous village of Kuranda.
---
Kuranda Scenic Railway:
The original Kuranda Scenic Railway is a spectacular journey comprising unsurpassed views of dense rainforest, steep ravines and picturesque waterfalls.
Allow 1.5 hours for the journey from Freshwater Connection Station
Departures:
Your Train experience will commence at Freshwater Station or Kuranda Station, depending on your direction of travel. If you confirm Skyrail first it is possible to disembark at Cairns Central Station in the afternoon.
Freshwater Connection - is a popular departure point. Situated in the nearby suburb of Freshwater with views of the surrounding mountains, visitors can enjoy a hearty breakfast (extra cost) in authentic antique railway carriages. The Station also includes a railway museum, pioneer cottage and gift shop.

Departs 8:50am and 9:50am (Gold Class carriage is on the 9:50am departure)
Kuranda Station - is world renowned for its tropical gardens and historic significance. It is possibly one of the most photographed railway stations in the world.

Departs: 2:00pm and 3:30pm (Gold Class carriage is on the 3:30pm departure)
---
Kuranda Village:
This 'Village in the Rainforest' has numerous attractions including a butterfly sanctuary, a colourful bird aviary, koala park, walking tracks and a diverse range of markets (open every day from 9am to 3pm), shops, cafes and restaurants (extra costs).
We recommend allowing yourself two to three hours in Kuranda.